Wedding Videography
Gold Package
---
Up to 6 hours coverage
1 Videographer
Full ceremony (2 HD cameras)
Edited reception coverage
Custom DVD menu
Custom printed DVD label
Includes 2 DVDs
Price: $1,800
Platinum Package
---
Up to 10 hours coverage
1 Videographer
Pre-ceremony coverage
Full ceremony (2 HD cameras)
Edited reception coverage
Highlight Video (3-5 minutes)
Custom DVD menu
Custom printed DVD label
Includes 3 DVDs
Price: $2,600
Diamond Package
---
Up to 12 hours coverage
1 Videographer
Pre-ceremony coverage
Full ceremony (3 HD cameras)
Additional camera operator for ceremony
Edited reception coverage including full length speeches, cake cutting, & dances
Highlight Video (3-5 minutes)
Custom DVD/Blu-ray menu
Custom printed disc label
Custom printed disc box
Includes 5 DVDs or Blu-rays
Price: $3,400
---
* Important Booking Information *
All packages require a signed contract and a 50% non-refundable deposit to reserve your wedding date. The remaining 50% will be due 2 weeks before your reserved date.
---
Example Images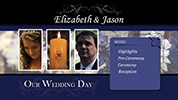 DVD Menu

Diamond Box Set
---
Need Additional DVDs/Blu-rays?
First, if you need additional copies, we give you full rights so you can make them yourself. We'll even include the disc label as a jpg file so you can print them off as well. However, if you would like for us to make extra copies, we'll be glad to do so at the following prices...
Each additional Gold or Platinum DVD - $15.00
Each additional Diamond DVD - $20.00
Each additional Diamond Blu-ray - $25.00
---
Full Ceremony
All packages include full wedding ceremony coverage, meaning it will be recorded in its entirety from start to finish. The groom will be wearing a mic so we can clearly hear the vows.
The Gold and Plantinum packages include two HD cameras, one angled from the right side facing the bride and the other camera shooting straight ahead from the center aisle.
For the Diamond package, the additional third camera will be facing the groom from the left side while the second camera operator will be using the camera pointed towards the bride.
---
Pre-Ceremony and Reception
Most of the pre-ceremony and reception will be filmed documentary style and edited into shorter clips within chronological order. We film the day as it happens and don't take on a director's role asking for certain looks or poses.
The Diamond package also includes speeches, cake cutting, and dances in their entirety, while the Gold and Platinum packages will include edited/shortened versions of these events.
---
Highlight Video
We love the highlight video as it's the perfect way to share your wedding day to friends and family. The highlight video is a 3-5 minute cinematic experience set to a song which displays the best moments of your wedding day. You can view some of our wedding highlight videos on our films page.
---